1.10.2021
Interstruct Tampa's New Flagship Office
By Megan Padilla; Photos by Chad Baumer
Interstruct Tampa's new office embodies real estate's top criteria: location, location, location.
The transformation of a nondescript 1960s office building into a signature structure in the heart of South Tampa "solidifies us as a top tier Tenant Interior general contractor in Tampa," says company President Matt Coticchio. It also firmly establishes the firm's expanding Architect-as-Developer business model in which Interstruct orchestrates and capitalizes its own development projects.
Finding the right property
When Coticchio walked into a client meeting at 1802 W. Kennedy to discuss a tenant improvement project, he immediately recognized the value of the off-market, 10,000sf two-story building adjacent to the University of Tampa campus.
"Why are you in this space when you don't need a prime location?" he asked the owners whose business did not require foot traffic. Coticchio, who is also a licensed real estate professional, knew that he'd stumbled upon an ideal parcel for adaptive reuse in a part of the city where vacant land is a thing of the past.
Four months after that first meeting, Coticchio and his partners, Interstruct co-founders Ryan Young and Rich Monroe, closed on the property. Six months later, Interstruct Tampa moved into its new home, as both landlord and tenant.
A diamond in the rough
When visiting the property for the first time, the partners saw a building whose interior was largely being used as storage – boxes stacked high – and most areas not being used at all.
"We recognized that it needed a bit of vision and to be cleaned up," says Young, who is also a licensed architect. For instance, there was an interesting offset to the exterior windows that created a nice asymmetrical balance to the facade including an entry to a unique monumental staircase that would ultimately be the main access for the Interstruct offices upstairs.
"Details like that aren't generally available in adaptive reuse or would cost a lot to put in place," says Young, who noted other significant features. "It was a perfect rectangle, had great windows and was sited perfectly on West Kennedy."
"Just seeing the basic form of the building revealed such clear design possibilities. It really had a clear path of becoming an Interstruct building; It makes a statement for our business and our model of Architect as Developer. Everything about it was pointed in the right direction to be a superior project for us."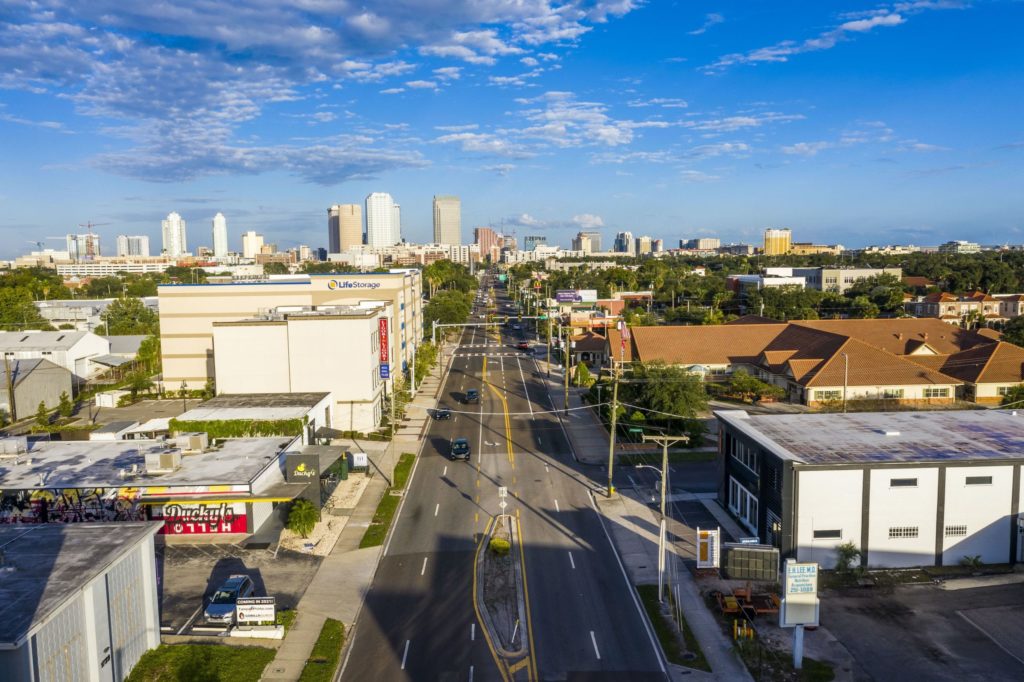 Architect as Developer
In addition to the location just west of downtown and the exposure to West Kennedy, the building's size, footprint and floorplan were ideal for Interstruct's plan. The company would use the upper 5,000sf floor for its own operations and seek a ground-floor tenant for the other 5,000sf.
Says Young, "Once we were able to get confirmation that the entire parking lot on the other side of the back alley came with the building, we were really excited."
"Great eyes from Matt to spot this as the perfect building for our Architect as Developer model," says Young. "Matt walked in and recognized the value. He has the mindset of looking for the right deal, negotiated it off-market, and had us into the new space in six months."
"This is what we want to be doing with development moving forward," says Young, describing a process that takes a low value building and adds value through architecture and the Interstruct team's vast experience, as well as with tenants who bring cash flow and whose businesses enhance the neighborhood.
"This is more proof that we've got all the pieces to put these projects together," says Young.
Selecting Tenants
Selecting the right tenant is nearly as important to Interstruct's Architect-as-Developer model as is finding the right building.
Another option is splitting the ground-floor space into two 2,500sf units, giving direct parking access to the tenant on the backside. On the front, there are a couple of parking spots that can be repurposed as a nice outdoor space for the right tenant, "So people can get the energy and vibe of being on West Kennedy," says Young.
"We aren't just looking for the tenant with the best credit," says Coticchio. "We are looking for someone with synergy, who is design-minded and whose business brings value to the neighborhood.
The partners all agree that they want to be excited about the businesses that move in to the ground floor and are especially interested in working with a local concept such as a coffee shop, restaurant or retail. "We are looking for neighborhood-centric development."
A case for Adaptive Reuse
When asked if it wouldn't be easier to just build new, Coticchio makes a strong case for adaptive reuse: speed, ease and cost control. Plus, there is no more vacant land in this vital core of South Tampa, so paying a cost-per-square-foot to buy a building and then tear it down brings the out-of-the-gate costs way up.
"There's less risk in adaptive reuse because we have more control over that process," he says. "There's a building standing there. You're not putting something on a piece of dirt. You don't have to worry about zoning, entitlements, all of the legwork that goes into development like parking, impact fees, landscape. All of that stuff is in place and really is just a renovation.
The permitting process for Tenant Improvements (TI) goes through the Building Department, he says, versus new construction which has to go through every building discipline such as zoning, parking, environmental and engineering. "You're talking six months to a year of permitting process as opposed to ours which is in there for a month," says Coticchio.
"By sticking with the same building, you can maintain a threshold of cost," he says. "This is stuff we know because we do it so much. We don't have to upgrade the building to a bunch of new code requirements."
"We could see that it fit perfectly into our model of adaptive reuse projects," says Young.
Design notes on the Tampa office
Despite its egregious cosmetic flaws such as Corinthian columns supporting a faux Greek pediment along with black + white striped canvas awnings, the original midcentury façade of 1802 W. Kennedy showed clean bones.
Part of the design process was to bring the asymmetrical façade into balance, starting with the windows. "We were trying to use existing openings and not spend a bunch of money," says Young. "We were able to visually balance the façade by using these metal panels as a design feature on the left, expanding some of the window openings, and creating architectural interest around the front entrance on the right."
Custom-made powder-coated aluminum and corrugated metal panels were installed into the Interstruct grid pattern, highlighted by an orange "I." Bookending the facade are architectural fins used as wayfinding markers guiding visitors to the entrance leading to Interstruct's second-floor office.
When Interstruct Orlando completes its adaptive reuse project for its flagship office located west of downtown in the Parramore neighbhorhood, the design will be a sister project with similar color schemes, exposed materials and use of the "I" instead of name spelled out.
"It will look like it's in the same family but not a duplicate," say Young.
Here to stay
Coticchio opened the Interstruct Tampa office in 2010 and couldn't be more proud of the company's new home on W. Kennedy. "This is our flagship building in the heart of the market. It is an extraordinary building and location and really sends the message that we are here to stay."
Young adds, "Not only did Matt find us a great building and did a great job building and maintaining our budget, but it's also really exciting that it is a path forward for us." It's a fitting place to be as the company celebrates its 20th anniversary this year and looks ahead to the next decade.